Back
Buckle up, it's going to be a luxurious ride.
Luxury goods are thought by many to be an investment, but an investment in style. If you buy a Chanel bag, a Louis Vuitton belt, or a Hermès bracelet, you might make some profit if you decide to sell it once it grows in value. Luxury goods can also hedge against inflation and might show resilience in times of uncertainty. In fact, statistics[1] show that the luxury industry typically performs better than other sectors during an economic downturn.
When it comes to luxury, price is not necessarily the target, but rather uniqueness, eminence, and quality that last even when the price you bought it at is forgotten. It is one of the reasons why luxury brands are affordable for only a small global population, mainly the wealthy.
After COVID-19, luxury brands increased their prices in response to lower sales during the pandemic. As such, the luxury goods market grew[2] by 7% YoY in Q4 2022. And while 60% of consumers considered that these prices are increasing unfairly, they still buy.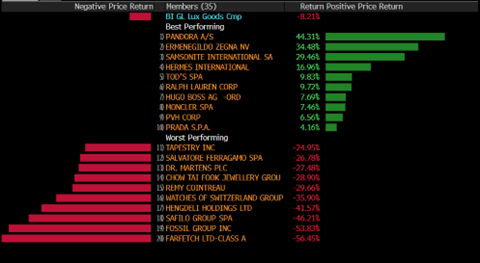 Since March 2022, the Fed raised interest rates 11 times, and rates have reached their highest in almost 22 years. However, European luxury goods did not cease to drop last September amid uncertainty in the US and worries that China might be hit by a new wave of COVID-19[3].
Luxury stocks plunged 20% from a record high. Louis Vuitton (LMVH) dropped 2% last Wednesday after losing 5% the day before, while Burberry (BRBY), Birkin (RMS), and Gucci (KER) fell 3.5%, 1.2%, and 2.3% respectively.
But this year has been big for the sector[4]. Since the beginning of 2023, LMVH is still more than 20% up, despite the selling that has been happening.
Looking forward, the global luxury goods market is expected[5] to grow from $284.00 billion in 2023 to $392.40 billion by 2030, at a CAGR of 4.7% during the forecast period.
So which luxury brand are you investing in?

References:

[1] KPMG [2] J.P. Morgan [3] Reuters [4] Barron's [5] Fortune Business Insights

Disclaimer
This is a marketing communication and does not contain, and should not be construed as containing, investment advice or an investment recommendation or, an offer of or solicitation for any transactions in financial instruments. Past performance is not a guarantee of or prediction of future performance. The information contained herein does not constitute a personal recommendation and does not consider your personal investment objectives, investment strategies, financial situation or needs. Squared Financial makes no representation and assumes no liability as to the accuracy or completeness of the information provided, or any loss arising from any investment based on a recommendation, forecast, or other information supplied by Squared Financial.

The information on this site is not intended for any person in any country or jurisdiction where such distribution or use would be contrary to local law or regulation.