Ready For BABA?
With all eyes fixed on the latest retail frenzy from Gamestop, Ripple, to Silver, earning season is gearing up with big names such as Alphabet, Amazon, Pfizer and Alibaba expected to report today, with the latter before the bell.
Keeping it short, a quick look over analyst expectations has the future looking good for BABA. 46 analysts with 12 months target price (updated within the last 3 months) have an average target price at $325.40 (latest print at $264.69 ) with a high of $387 and a low at $308. Out of  70 recommendations, we have 61 Buys, 3 Holds, 0 Sells.
Alibaba continues to benefit from an increasing user base with more than 750M active users on their China retail marketplaces, with share of revenue outside of china seeing a significant increase (from 15.6% in FY18 to 20.3% in FY19) and is expected to continue on an uptrend.
On one hand, China new Covid-19 cases continue to tick up with cases reaching 100,000 yesterday. On the other, domestic online retail marketplaces seem to have fully recovered and looking ahead towards 2028, where China is expected to become the world's largest economy.
Technical Outlook
On the downside the stock is well supported at $220 and further below at $200, coinciding with the 200 period SMA on the weekly chart. MACD and RSI indicators are showing a buildup in bullish momentum with the MACD forecasting the end of a bear move and the RSI crossing above the 50-midline level.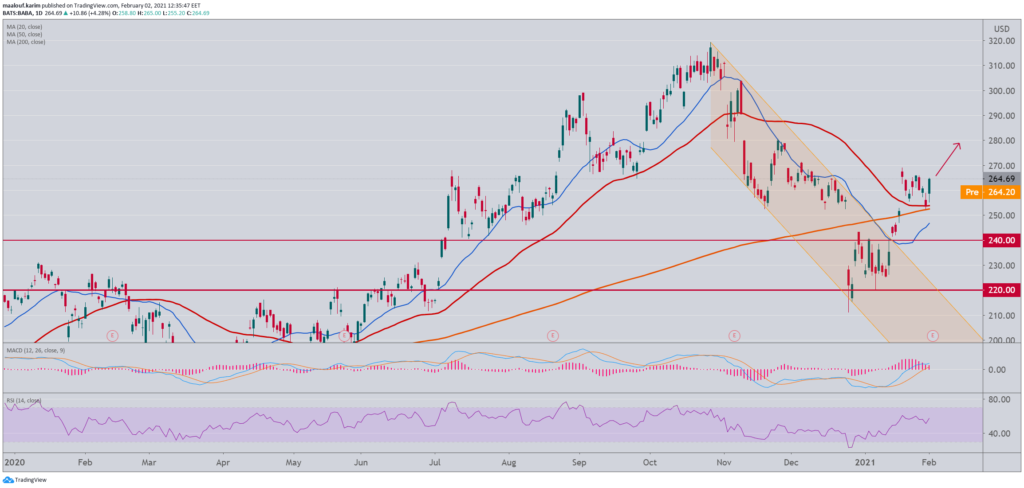 On the shorter term, $240 is the level needed to hold to favor a clean run higher with $267 resistance level on the 4H timeframe to give way.
For those day traders out there and today's expected volatile session, technicals favor a long position with a tight stop below $253 ($247-$250) with $280 and $300 in sight, penciling n a surprise beat of $3.50+ EPS vs. expected $3.20
Karim Maalouf, FRM
Senior Market Analyst at SquaredFinancial
Karim started his career at a top bank in Credit Risk portfolio management, moving onto Financial and Liquidity Risk, consulting, investment banking, building knowledge and trading experience along the way only to develop a passion for the fascinating world of trading and diverse trading strategies (high frequency, algorithmic and day trading) benefiting from mentorship of leading industry experts. Karim believes that deep education is essential before risking any money. He joined Squared Research in 2018 as an Equity Analyst, but continues to trade on a discretionary basis, using successfully developed methodologies coupled with effective risk management and a winning psychology. Karim obtained a Bachelors' Degree in Economics from the American University of Beirut (AUB) in 2011, is FRM© certified with the Global Association of Risk Professionals (GARP) since 2017, have successfully passed CFA (Chartered Financial Analyst) level I, and CMT (Chartered Market Technician) level II.
Disclaimer: This information is only for educational purposes and is not an investment recommendation. The information here has been created by SquaredFinancial. All examples and analysis used herein are of the personal opinions of SquaredFinancial. All examples and analysis are intended for these purposes and should not be considered as specific investment advice. The risk of loss in trading securities, options, futures, and forex can be substantial. Customers must consider all relevant risk factors including their own personal financial situation before trading.